TOOL SELECTIONS FROM AENIMA PICTURE DISC VINYL 12″ PROMO RECORD 001
Title: AENIMA
Tracklisting : SIDE A : 1. STINKFIST (5:10) 2. H (6:07) 3. USEFUL IDIOT (0:39)
SIDE B : 1. FORTY-SIX & 2 (6:03) 2. INTERMISSION (0:56) 3. JIMMY (5:23) 4. (-) IONS (3:58)
Format: INCREDIBLY RARE 12″ PICTURE DISC VINYL 12″ PROMO
Year: 1996
Condition: EX AND UNPLAYED
THIS HAS ONLY BEEN TAKEN OUT OF ITS PLASTIC SLEEVE A COUPLE OF TIMES (FOR PHOTOGRAPHIC PURPOSES) AND NEVER PLAYED. HOWEVER, IT HAS BEEN SITTING IN A TIGHTLY-PACKED PVC SLEEVE FOR THE BEST PART OF 20 YEARS AND BECAUSE OF THIS THERE ARE SOME FEATHERLITE MARKS/SCRATCHES ON THE PICTURE DISC. NOTHING MAJOR, BUT I WANTED TO POINT IT OUT.
Picture Sleeve: PLAIN PVC PLASTIC SLEEVE WITH 2 SIDED PRINTED INLAY. PRINT HAS A COUPLE OF LIGHT CREASES HERE AND THERE, AND SLIGHT RINGMARK, MAINLY DUE TO BEING PACKED TIGHTLY.
I HAVE HEARD THERE ARE ONLY 50-100 COPIES OF THIS RECORD WORLDWIDE…
POSTAGE WILL BE WITH AUSTRALIA POST – REGISTERED
PLEASE NOTE I WILL ONLY SEND IT REGISTERED/INSURED, HENCE THE HIGH COST OF POSTING ABROAD.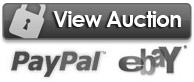 Vinyl Photos: