One of 250 copies of the Lateralus vinyl signed by each member of the group and sold through ToolArmy. Each side is signed and/or drawn on by a different member, making each copy unique.
Following the release of the vinyl, these were sold in batches of 100, 100, and 50 via the group's membership-based site (this was one of the first 100). Each block sold out almost immediately, and if you're looking at this, you already know how rare it is for them to be re-sold, especially by original owners.
Luckily for you, I've decided to finally part with mine. They were opened, viewed, then immediately closed back up and stored on a record shelf for the past 4+ years. Opening them up to take these pictures is the 2nd time the sleeves have even been removed. They've never been played, scratched, bent, or…you get the idea.
People are selling counterfeits of these. The real ones were signed by Tool before the records were pressed. Thus, the signatures are underneath the grooves. Counterfeits are signed on top of the grooves. I've included a picture [from the item I'm selling] that illustrates this. If you want another specific picture, let me know and I'll add it here or elsewhere.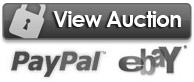 Vinyl Photos: