Cesaro Summability 12″, Promo, Picture Disc, Limited Edition
3
This is what I put on ebay:
(Only 5,000 copies)
Released in 1996
Side A: 1. Cesaro Summability (1:26) 2. Aenima (6:40)
Side B: 1. Third Eye (13:47)
Signed by Maynard James Keenan (Vocals), Danny Carey (Drums), Adam Jones (Guitar), and Justin Chancellor (Bass). Chancellor was not the bassist on the recording; he replaced Paul D'Amour prior to the tour.
I am no bootlegger! I am a genuine Tool fan—I have been for ages—but I move frequently, and I am worried that something will happen to this gem in all my moving about. To the buyer of this LP, I would be happy to tell you its history! It has always been in my possession, and I have only played it once—today—to make sure it is still in good condition. Good news: it is perfect! Man, the tracks sound amazing!!
Hope you will consider becoming the caretaker of this treasure!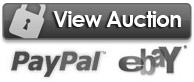 Vinyl Photos: