LATERALUS PICTURE DISC VERSION TOOL ARMY
0
TOOL ARMY Autographed Signed Lateralus Picture Disc Vinyl Album Set LP !
An awesome 'Lateralus' album signed picture disc set from the tool army website. In case you are unaware, these were sold back in 2006 to select members of the Tool Army website. They are no longer made! Includes a copy of the original receipt with the original purchases information blacked out. This set is in as new condition. A very rare item indeed!
With certificaty of world of autograph and receipt tool army.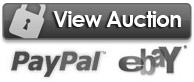 Vinyl Photos: